Train Timetables from

- Auckland
- Hamilton
- Otorohanga (Waitomo Caves)
- National Park
- Ohakune
- Palmerston North
- Wellington
- Picton
- Blenheim
- Kaikoura
- Christchurch
- Arthurs Pass
- Greymouth

Major Railway Stations

- Auckland
- Hamilton
- Palmerston North
- Wellington
- Picton
- Kaikoura
- Christchurch
- Greymouth

Passenger Train Services

- Auckland-Christchurch
- Auckland to Wellington train


- Christchurch-Auckland
- Christchurch to Picton train
- Christchurch to Kaikoura train
- Christchurch to Greymouth train
- Kaikoura to Christchurch train
- Greymouth to Christchurch train
- Picton to Christchurch train
- Wellington to Auckland train
New Zealand Long Distance Passenger Train Services

Auckland - Wellington - Auckland Train Service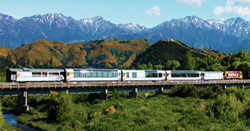 The Auckland to Wellington train service is a scenic rail journey through the heartland of New Zealand's beautiful North Island travelling between Auckland - New Zealand's largest city and home of the Sky Tower to Wellington - New Zealand's arts and culture capital. Your journey will take you through rugged native bush, up the world famous Raurimu Spiral, to the beautiful alpine desert region of the volcanic plateau with its majestic volcanoes, down through stunning river gorges to rocky seascapes of the lower North Island, all seen from the comfort of your carriage through panoramic windows. The Northern Explorer train has... (read more)

Christchurch - Picton - Christchurch Train Service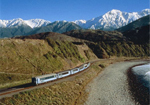 The Christchurch to Picton train service is a scenic rail journey travelling from Christchurch to Kaikoura, Blenheim and Picton - the gateway to the beautiful Marlborough Sounds. Your journey is a scenic feast, with the Kaikoura mountain ranges on one side of your train and the rugged Pacific Ocean coastline on the other. Travel through some of New Zealand's finest farmland and wine growing regions plus see marine birds, seals and penguins from the comfort of your carriage through panoramic windows. This train has... (read more)

Christchurch - Greymouth - Christchurch Train Service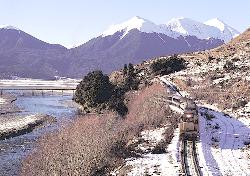 The Christchurch to Greymouth train service is a scenic rail journey, travelling between Christchurch, Arthurs Pass and Greymouth - from one coast of New Zealand's South Island to the other. From the comfort of your carriage, you'll see farmlands of the Canterbury Plains, ascending up through spectacular river gorges and valleys of the Waimakariri River to Arthurs Pass - one of three mountain
passes in the Southern Alps, before descending through the Otira Tunnel to lush beech alpine rain forests to Greymouth - the gateway to the South Island's West Coast and glaciers. This train has... (read more)

There are only 3 long distance passenger train services in New Zealand and 2 regional passenger train services - being the Capital
Connection operating between Wellington and Palmerston North and the Wairapapa Connection between Wellington and Masterton.

Travel to other major tourist destinations in New Zealand, is by scenic bus and coach services.